Middle School is the fastest growing section in our school. We have both our current Elementary students continuing into the Middle / Jr. High School section as well as many new students from other schools in Los Cabos who are attracted to the quality educational experience and choose our school for its reputable program. We offer a bilingual program in Middle School where students, in addition to their studies in English and Spanish Literature, also receive instruction in other subjects that vary between Spanish and English depending on the subject and teacher.
We are proud of all our national and international teachers, who are required to be certified in their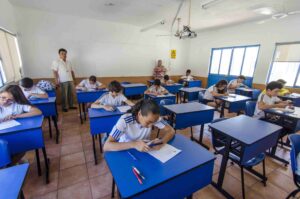 subject areas and trained to offer instruction through and interdisciplinary approach where connections are made between and among subjects. Our school offers grade-level educational trips and experiential learning to MS students to enhance their learning experiences beyond the classroom.
The long term strategic plan for Colegio El Camino is to offer the International Baccalaureate Continuum, meaning IB certified programs at all 3 levels from Kindergarten through High School. We are currently an authorized IB World School offering the IB Diploma Program in HS (11th and 12th grades) and the Primary Years Program (Kinder to 6th grade).
The school´s next milestone is to apply for candidacy for the IB Middle Years Program (7th through 10th grade) in the spring of 2019. Many of our High School IB Diploma teachers, several of whom are international hires also teach in the Middle School. Our pedagogical goal is to prepare our students for the Diploma Program and for leadership roles in a world that is in constant change. For more information on the International Baccalaureate please consult www.ibo.org
Schedule:
School Day from 7:25 a.m. to 3:00 p.m.
Students attend 6 classes and receive a recess/lunch breaks of 20 and 50 minutes.
Students have 30 classes per week and the students move from class to class throughout the day. This approach allows classrooms to be set up and prepared for the subject and gives students the opportunity to allow their minds and bodies to prepare for the next subject area as well as get a well-deserved moment to stretch their legs on the way to the next class. Students also participate in elective classes where students from 7th through 12th grade attend a mixed grade level workshop of their choosing that includes workshops like Student Council, MUN Club, Living Science Lab, Spanish and English Conversation, Chess among others.
Adolescence is a stage in life filled with challenges and moments of doubt. Colegio El Camino understands this and provides support and guidance to our Middle School students through our Mentoring Program and guidance classes. These programs support the students as they navigate the challenges they experience during this stage of life. The mentoring program connects every student with a trained mentor who may be a teacher or staff member who takes time to listen to him or her on a one on one basis. They can meet during arranged times during class time, at recess or before/after school. The guidance counselor meets once a week with each grade level group to help students prepare for their life projects. These unique projects include aptitude assessments, portfolios, and self-evaluations that will prepare them for High School and future studies.
Our afternoon Academic Academies run from 3:30 to 4:30 pm and your child can attend as many of the classes as you like during the week. They include Math, Physics, Chemistry Support, English and Spanish Language Support and Homework Club in the Computer Lab. Please contact the IB CAS and Events Coordinator, Cecilia Montes for more information including fees and schedules. cmontes@elcamino.edu.mx
Afternoon athletics are offered and include soccer, basketball, volleyball, flag football, and cheerleading.
Please contact Ivan Mendoza our Athletic Coordinator for more information. imendoza@elcamino.edu.mx